新睿云服务器60天免费使用,快来体验!>>>
Perhydropolysilazane (PHPS) or Inorganic Polysilazane IOTA-PHPS
Name: Hydrophilic Super Hard Stain Resistant Nano-Coating Materials
English synonyms: PHPS
Polysilazane Liquid Coating Materials
Description:
The coating product is mainly composed of perhydropolysilazane IOTA PHPS,diluted and stored in a solvent.
Features:
Good solubility
Short curing time
Curing a variety of ways
Good adhesion on the metal ceramic polymer materials
Can be converted to SiO2 at a lower temperature
Technical Parameters:
Appearance: colorless transparent liquid
Solid content: 20%
Solvent: butyl ether
Liquid density: 1.16-1.31 g / ml
Density after curing: 1.6-2.0 g / ml
Curing mechanism:
The curing of the coating material mainly is the Si-N bond hydrolysis, the mechanism is as follows: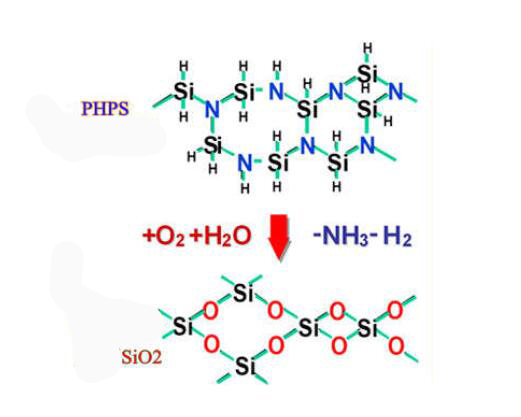 Curing conditions:
Room temperature: more than 7 days
Moisture curing: humidity 90%, temperature 150 ℃, 2h
Coating properties:
Composition: SiOx
Coating thickness (nm): >100
Hardness (GPa): 3 (ammonia curable)
8-10 (high temperature curing)
Elastic modulus (GPa): 60 (NH3.H2O curing)
100-130 (high temperature curing)
Pencil Hardness: 9H(Chinese)
6H (Mitsubishi)
Transparency (visible light): > 90%
Adhesion (grid method): 0 level
Temperature resistance (air): 800 ℃
Rust, alkali, salt water resistance
Acid (10% hydrochloric acid): about a month.
Applications:
Building anti - graffiti
Metal anti-corrosion
Rail
Semiconductor insulating layer
electronic circuit
Plastic packaging waterproof gas barrier
Metal high temperature oxidation resistance
Surface hardening coating
Product packaging:
According to customer demand, 0.5-10 liters metal sealed drum, generally use xylene, dibutyl ether or dichloromethane for filling, solid content of 2-20%.
How to use:
First, clean the substrate surface, coating products using spin-coating, rubbing, spraying, dipping, etc. construction, and then by room temperature curing, high temperature curing, etc. curing.
Clean:
Proper cleaning is important. After using promptly use acetone or solvent oil to wipe the tool cleaning.
IOTA PHPS cured, the solvent can not be washed away.
Storage:
Shelf life: 2years; after the application, it depend on the protective measures, sealed low temperature drying case, the applicable period of more than half a year.
Precautions:
Should l be in a ventilated, dry environment, and the use of necessary protective measures, such as gloves, masks, goggles; shall not
Do not place uncured IOTA PHPS near to fire, humid air, or water.
After opening, seal it in a timely manner. If it is used in a humid environment, replace the container with nitrogen after using.