【腾讯云】买域名送云解析+SSL证书+建站!>>>
1.【博客】5 Machine Learning Projects You Can No Longer Overlook, April
简介:
It's time for yet another installment of "5 Machine Learning Projects You Can No Longer Overlook" -- the modest quest of bringing formidable, lesser-known machine learning projects to a few additional sets of eyes -- this time for April 2017. Previous lists have included both general purpose and specialized machine learning and deep learning libraries, along with auxiliary support, data cleaning, and automation tools.
原文链接:http://www.kdnuggets.com/2017/04/five-machine-learning-projects-cant-overlook-april.html#.WO-Or8Q7mKM.facebook
---
2.【代码】Chatting with a Deep learning brain
简介:
This is a demo of chatting with a Deep learning chatbot trained through Neuralconvo, a Torch library that implements Sequence to Sequence Learning with Neural Networks (seq2seq), reproducing the results in the Neural Conversational Model paper (aka the Google chatbot).
原文链接:http://neuralconvo.huggingface.co/
代码链接:https://github.com/macournoyer/neuralconvo
---
3.【代码】Neural Complete
简介: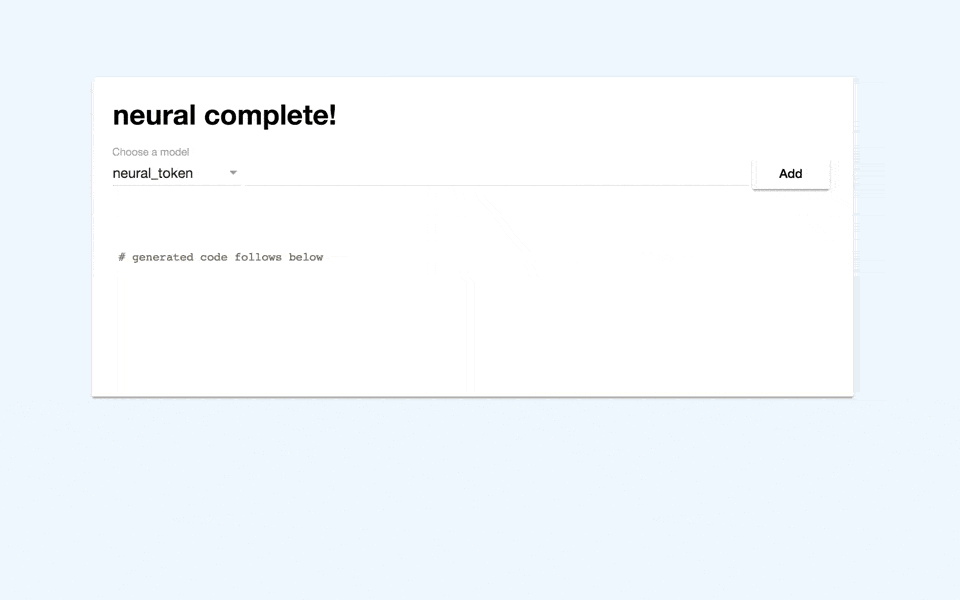 A neural network trained to help writing neural network code using autocomplete
原文链接:https://github.com/kootenpv/neural_complete
---
4.【博客】A news-analysis NeuralNet learns from a language NeuralNet
简介:
A common way to solve a complex computing task is to chain together specialized components. In data-science this is the pipeline approach. Each component mostly treats the other components as I/O black-boxes. As developers we potentially have the full picture but the system does not.
With Neural Network what happens between I and O is often too interesting to be ignored. One Neural Network can leverage the way another Neural Network processes its inputs.
原文链接:https://medium.com/becoming-human/a-news-analysis-neuralnet-learns-from-a-language-neuralnet-16646804fdeb
---
5.【代码】Spatial Generative Adversarial Networks: Tensorflow
简介:
SGANs can generate sample textures of arbitrary size that look strikingly similar - but not exactly the same - compared to a single (or several) source image(s).
SGANs can be thought of as a convolutional roll-out of Radford et al.'s deep convolutional generative adversarial networks for texture synthesis
the fully convolutional nature allows for real-time generation of high resolution images
the method can fuse multiple source images and is highly scalable w.r.t. to output texture size and allows for generation of tiled textures
原文链接:https://github.com/cryptexis/sgan-tensorflow
---