【腾讯云】新注册用户域名抢购1元起>>>
摘要: A game about Sudoku, but I just implement it, when the game has only one solution. If you have a hobby, you can continue to implement it.
Sudoku Solver:
Write a program to solve a Sudoku puzzle by filling the empty cells.
Empty cells are indicated by the character '.'.
You may assume that there will be only one unique solution.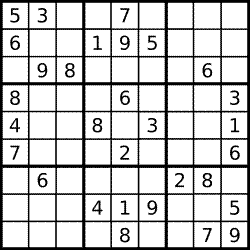 ...and its solution numbers marked in red.
C# Codes:
using System;
using System.Collections.Generic;
using System.Linq;
using System.Text;
using System.Threading.Tasks;
namespace Sudoku
{
class Suduku
{
/// <summary>
/// Keep all of values related every time after running the programme.
/// </summary>
private static string str;

/// <summary>
/// Keep all of array's data
///
/// </summary>
private static string arrayStr;

static void Main(string[] args)
{
string[] a = new string[9];
string[,] arr = new string[,] {
{"5","3",".",".","7",".",".",".","." },
{"6",".",".","1","9","5",".",".","." },
{".","9","8",".",".",".",".","6","." },
{"8",".",".",".","6",".",".",".","3" },
{"4",".",".","8",".","3",".",".","1" },
{"7",".",".",".","2",".",".",".","6" },
{".","6",".",".",".",".","2","8","." },
{".",".",".","4","1","9",".",".","5" },
{".",".",".",".","8",".",".","7","9" }
};

// If key is true, "while" cyscle will continue to run. Otherwise, the process will jump out of cycle.
bool key = true;

// This array keep results after running once 'while' cycle.
string[,] result = new string[8, 8];
result = arr;

Console.WriteLine(" -------Sudoku Game Question--------");
result = arr;
for (int i = 0; i < 9; i++)
{
for (int j = 0; j < 9; j++)
{
Console.Write(" " + result[i, j]);
}
Console.Write("\n\n");
}
Console.Write(" Let's play this game!\n\n");

// "while" cycle that it can deal with datas and replace '.';
while (key)
{
for (int i = 0; i < 9; i++)
{
for (int j = 0; j < 9; j++)
{
if (arr[i, j] == ".")
{
Array.Clear(a, 0, a.Length);

// X stand for rows, Y stand for columns.
int X = i / 3;
int Y = j / 3;
for (int i1 = 0; i1 < 3; i1++)
{
for (int j1 = 0; j1 < 3; j1++)
{
a = isExist(a, arr[X * 3 + i1, Y * 3 + j1]);
}
}
// Check row's values existed
for (int m = 0; m < 9; m++)
{
a = isExist(a, arr[i, m]);
}
// Check column's values existed
for (int n = 0; n < 9; n++)
{
a = isExist(a, arr[n, j]);
}

for (int k = 0; k < 9; k++)
{
if (a[k] != "")
{
str += a[k];
}
else
{
str += "";
}
}

//Console.WriteLine("Verify this string:{0}", str);
if (str.Length != 8)
{
str = string.Empty;
continue;
}
else
{
if (!str.Contains("1"))
{
result[i, j] = "1";
}
if (!str.Contains("2"))
{
result[i, j] = "2";
}
if (!str.Contains("3"))
{
result[i, j] = "3";
}
if (!str.Contains("4"))
{
result[i, j] = "4";
}
if (!str.Contains("5"))
{
result[i, j] = "5";
}
if (!str.Contains("6"))
{
result[i, j] = "6";
}
if (!str.Contains("7"))
{
result[i, j] = "7";
}
if (!str.Contains("8"))
{
result[i, j] = "8";
}
if (!str.Contains("9"))
{
result[i, j] = "9";
}
}
}
else
{
continue;
}
}
}

// Clean up this string
arrayStr = string.Empty;
for (int i = 0; i < 9; i++)
{
for (int j = 0; j < 9; j++)
{
arrayStr += result[i, j];
}
}

// According to key value, whether the cycle continue to run.
if (arrayStr.Contains("."))
{
key = true;
}
else
{
key = false;
}
}

// Print Sudoku Game Result
Console.WriteLine(" -------Sudoku Game Result--------");
result = arr;
for (int i = 0; i < 9; i++)
{
for (int j = 0; j < 9; j++)
{
Console.Write(" " + result[i, j]);
}
Console.Write("\n\n");
}
Console.ReadKey();


}

/// <summary>
/// Create a new array to store row's or column's values.
/// </summary>
/// <param name="a1">store row's or column's values</param>
/// <param name="v">array arr's data</param>
/// <returns></returns>
private static string[] isExist(string[] a, string v)
{
switch (v)
{
case "1": a[0] = v; break;
case "2": a[1] = v; break;
case "3": a[2] = v; break;
case "4": a[3] = v; break;
case "5": a[4] = v; break;
case "6": a[5] = v; break;
case "7": a[6] = v; break;
case "8": a[7] = v; break;
case "9": a[8] = v; break;
default: break;
}
return a;
}
}
}
Running results: